Tags: 2D, 3D, Bryce, Memorials, Photography
---
It is with great sadness that we hear that Terry Barrett, known here as Renderosity member, dhama, passed away in the early hours of 11 May 2013.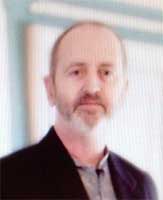 A tribute from Terry's friend, Renderosity member Staticon:
"My good friend Terry Barrett passed away in the early hours of May 11. He was known on Renderosity as dhama.

He was a talented artist in many mediums, but, here on Renderosity, it was mostly Bryce images and photographs that he posted.

His images covered many subjects, most as realistic as he could make them. He had an amazing gallery of representations of the Cumbrian Lake District - one of his favourite locations - and many excellent photos of scenery in Sweden, the country he made his home in for the last seven years.

He had an odd habit, though, of getting rid of past material when he moved onto a new project - hence the total deletion of his gallery.

He had since added a couple of new images - one of his cat and one artistic representation of Tower Bridge, but then he turned his efforts to making realistic Star Trek prop models and had amassed an impressive collection.

I am saddened that his Bryce work and many of his photos are now lost, but nowhere near as saddened as at the loss of one of the best friends I have ever had."
---
We invite you to have a look at dhama's Renderosity Gallery, and join with us in sending condolences to his family and friends.
~The Renderosity Staff and Community
---
Please note: If you find the color of the text hard to read, please click on "Printer-friendly" and black text will appear on a white background.
---
Please take a moment to join Renderosity's Newsletter List to receive news and information from Renderosity!
---
---
---
Related Articles: