Tags: 2d, 2d art, 2d artist, 2D Graphics, 3d, 3d art, 3d artist, 3d content, 3D LINKS, 3D Modeling, 3d models, 3D moviemaking, 3DS, Adobe Photosop, AMAPI 3D, animation, Animation:Master, animators, art community, art contests, Art Jobs, art prints, Art Theory, artist Resumes, ArtMatic, Arts and Crafts, Blacksmith3D, Blender3D, bryce, C4D, Carrara, cartoons, Cascading Style Sheets, Character Creators, Cinema 4D, comic strip, Comics Corner, computer gaming art, computer gaming graphics, Computer Graphics Hardware, Contest Announcements, Copyright Laws, DAZ, DAZ|Studio, Deep Paint3D, digital art, Digital Art Challenge Arena, digital art community, Digital Art Conferences, digital art content, digital art contests, Digital Art Expos, digital art prints, Digital Art Textures, Digital Art Workshops, Digital content, digital copyright laws, digitial artist, Director's Cut, Fractals, game developers, Gaming, Gaming Graphics, graphic art, graphic art community, graphic artist, Graphics Expos, Hexagon, high resolution textures, High-res texture maps, HTML, HTML Scripting, iClone, Imagine 3D, Industry News, jobs for artists, lightwave, Mac Graphics, Mac Users, Macintosh, making movies, MAX, Maya, MojoWorld, Paint Shop Pro, Painter, photographers, photography, photography contests, Photoshop, poetry, poser, Poser Python Scripting, Poser Technical, Printing, Product Showcase, renderosity comics, rhino 3d, Shade, softimage, SOFTIMAGE XSI, software Developers, Technical Poser questions, Terragen, Textures, Texturing, The CSS Workroom, TrueSpace, UV Mapper, VistaPro, Vue, Web Scripting, weekly comic strip, Wings 3D, World Builder, writers, writers contests, Xfrog, Z Brush
---
Rusted Type
Photoshop Tutorial
There are many methods to creating rust in Photoshop. Here is one way to make rusted type. We can make our text look weathered with a little effort.
INGREDIENTS
Gradients
Hue/Saturation
Filters
Layers - Styles and blending modes
Quick Mask
Selections
Colors
Difficulty - 5/10
1
Start with some test on a new layer.
Rasterize the type, by right clicking on the name on the layer thumbnail and selecting "rasterize text" (Render type in PS 5.0 and 5.5)


2
Select the text (Ctrl/Cmd+Click on layer thumbnail)
Select the linear gradient tool and choose the "copper gradient" fill the text with the gradient.


3
Change the color of the text by using the Hue/Saturation option. Press Crtl/Cmd+U to open the command and set it for a gray/blue color.

Duplicate the layer.


4
To add the texture:
Filters>Texture>Grain
Shoose the settings as shown to the right.

5
Switch to Difference mode and notice how the color begins to come out.

6
Now load the layer as a selection by Cmd/Ctrl+Clicking on the layer thumbnail.
Select>Modify Contract Choose 4 pixels.
In the bottom of the toolbox click on the quickmask button, or press the "Q" key
 


7
Filter>Distort>Glass
Choose the settings shown.


8
Click off the quickmask tool or press "Q" again.
Duplicate the layer
9
Press the Delete/backspace key to delete the selection.


10
Switch to color dodge mode.


11
Add an inner bevel to the layer.
Also add a drop shadow to the original text layer for effect.
Here is the effect with a shiny border, for a variation please continue.

12
Change the mode to Saturation
Ctrl/Cmd+U for the Hue/Saturation
Change the color to suit



13
Drop onto a colored background for effect.
There you have it... Rusted Text. Rust never sleeps! (And neither does Colin these days :)
For more cool techniques like this on an easy to follow video format check out Photoshop Secrets Special FX photoshopCD.com
Visit the Renderosity Photoshop Forum for fantastic monthly challenges and knowledgeable support from retrocity and fellow Photoshop artists!
---
If you're interseted in learning more cool type effects, be sure to check out Colin's new "Photoshop CS2 Type Effects" training video, available as a CD ROM or download.
Lessons include:
Chrome

Double Glow

Graffiti
Light Ray
Grunge
And more...
---
All content and supporting images are copyright, and cannot be
copied, printed, or reproduced in any manner without written permission.
---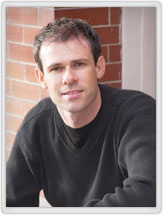 Colin Smith is a best-selling author, trainer, and award-winning new-media designer who has caused a stir in the design community with his stunning photorealistic illustrations composed entirely in Photoshop. He is founder of the world's most popular Photoshop resource site, PhotoshopCAFE.com, which boasts over three million visitors.
More...
Check out more products from photoshopcafe's store in the Renderosity MarketPlace!
---

ERROR: adman element file "buttongroupcom" doesn't exist.
---
---
---
Related Articles: