Photoshop Glass Text Tutorial
Here is a tutorial that will show you the easiest way to create glass text in Photoshop using layer styles.
INGREDIENTS
Type
Layer Styles
Difficulty 3/10
1
Start with a background. 72dpi and RGB mode.
2
Add some text, here I used galant (www.1001freefonts.com)

3
Add a layer style by clicking the little "f" at the bottom of the layers pallette.
Add a dropshadow and a bevel, copy the settings shown here.
Note 2 things here that really make the glass "pop"
1. Change the contour, this gives the reflected look.
2. uncheck the global light and change the altitude to 70.

4
Here is the result, pretty uninspiring huh?
5
This step is where the magic happens!
In the styles palette, click on the Custom blending options.
Now pull the fill opacity all the way to 0 and the rabbit comes out of the hat!
6
Here is our glass type.
Download the psd
7
Here I copied the layer style to the background layer to make that glass too.
Visit the Renderosity Photoshop Forum for fantastic monthly challenges and knowledgeable support from retrocity and fellow Photoshop artists!
---
If you're interseted in learning more cool type effects, be sure to check out Colin's new "Photoshop CS2 Type Effects" training video, available as a CD ROM or download.
Lessons include:
Chrome

Double Glow

Graffiti
Light Ray
Grunge
And more...
---
All content and supporting images are copyright, and cannot be
copied, printed, or reproduced in any manner without written permission.
---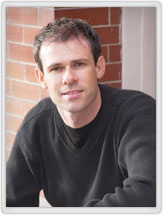 Colin Smith is a best-selling author, trainer, and award-winning new-media designer who has caused a stir in the design community with his stunning photorealistic illustrations composed entirely in Photoshop. He is founder of the world's most popular Photoshop resource site, PhotoshopCAFE.com, which boasts over three million visitors.
More...

October 2, 2006
Featured Products from photoshopcafe
Check out more products from photoshopcafe's store in the Renderosity MarketPlace!
---