Graffiti in Photoshop
Photoshop Tutorial
Time to tag your screen! Here's the tutorial on creating your own graffiti in Photoshop.
INGREDIENTS
Layers
Layer Masks
Gradients
Merging Images
Opacity

Difficulty 7/10
1
Start with an appropriate font. Here I used Tag Extreme. Download it here
Right click on the name on the layers pallett and select "rasterize type"
2
Create a new custom blend similar to this.

3
Ctrl/Cmd click on the layer to select it.
With the gradient tool set to linear draw the blend by dragging the gradient tool from top to bottom.
4
Don't deselect.
Create a new layer
Edit>stroke
Add a 2 pixel gray stroke to the "outside"
5
Filters>blur>gaussian blur
Add a .08 gassian blur to the new layer with the outline on it.
6
Merge the outline area with the graffiti layer by clicking Ctrl/Cmd+E or select "merge down"
7
Select the layer again. Cmd/Ctrl+Click on the layer thumbnail.
Add another stroke, this time make it black and put it right on the graffiti layer.
8
Looking good! Now for the shadow.
Duplicate the layer by dragging it to the new layer icon on the layers pallette.
Select the new layer and Fill with black.
9
Drag the black layer behind the graffiti layer and move down and to the left a little bit.
10
Here I added a background and changed the layer blending mode of the graffiti to Hard light. See how it blends nicely to the background like it was painted on.
Download the PSD|Download the layerstyle
Come and visit us at the cafe and discuss photoshop techniques.
Visit the Renderosity Photoshop Forum for fantastic monthly challenges and knowledgeable support from retrocity and fellow Photoshop artists!
---
If you're interseted in learning more cool type effects, be sure to check out Colin's new "Photoshop CS2 Type Effects" training video, available as a CD ROM or download.
Lessons include:
Chrome

Double Glow

Graffiti
Light Ray
Grunge
And more...
---
All content and supporting images are copyright, and cannot be
copied, printed, or reproduced in any manner without written permission.
---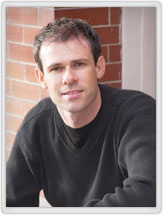 Colin Smith is a best-selling author, trainer, and award-winning new-media designer who has caused a stir in the design community with his stunning photorealistic illustrations composed entirely in Photoshop. He is founder of the world's most popular Photoshop resource site, PhotoshopCAFE.com, which boasts over three million visitors.
More...

October 9, 2006
Check out more products from photoshopcafe's store in the Renderosity MarketPlace!
---