Here is a nice effect that looks like the sun glinting off a metallic or shiny surface. This starburst effect even includes a little lens flare. A tasteful replacement for the sometimes over used lens flare filter. (A shout-out to Mrs Wanack and class at Humble High School who requested this.)
Step 1
First thing we need to do is create a new document. I set my background to black so that I can see the white glint that we will prepare.
Create a new layer and choose the line tool (Hidden under the rectangle shape tool in the toolbox)
Choose 2 pixels and the draw pixel option from the options bar
Step 2
Set white as your foreground color and draw a short dash (A) Hold the Shift key to constrain the rotation to a horizontal line
Choose Filter>Blur>Motion Blur as shown in (B). Add enough distance to get a nice tapered look. Make sure the angle matches the angle of the line.
Step 3
Duplicate the Layer with the dash on it
Press Ctrl (Windows) /Cmd (Mac) +T for free transform
Rotate the dash while holding down shift to constrain the rotation
Step 4
Choose both dash Layers and press Ctrl/Cmd+E to merge them (On version CS and earlier, choose the top layer and press Ctrl/Cmd+E to merge with the layer beneath) Careful not to merge with background
Duplicate the merged dash layer (Ctrl/Cmd+J)
Press Ctrl/Cmd+T for free transform Rotate 45 deg, grab a corner point and scale toward the center to make the new star smaller (hold down alt/option+shift to scale from center and constrain)
Step 5
You now have your starburst and you may be happy right here. For those of you who want to add a lens flare to the starburst continue...
Create a new Layer
Grab the elliptical marquee tool (circular selection tool)
Create a selection over the starburst
Step 6
Choose Edit>Stroke
Choose a 1 pixel white stroke
Deselect
Choose Filter>Blue>Gaussian Blur to soften the effect
Click ok and we're all done!
Step 7
Merge the layers together to use on your illustrations and photos.
Note: You can save them as a smart object in Photoshop CS2 and CS3.
Another option is to make a custom brush: Flatten the whole thing, choose Ctrl/Cmd+I to inverse and then make a selection around the starburst. Choose Edit>Define Custom Brush.
This is just one of the effects included on my Photoshop Secrets: Special FX video.
Enjoy.
*Visit the Renderosity Photoshop Forum for fantastic monthly challenges and knowledgeable support from retrocity and fellow Photoshop artists!
---

6 hours of quality Photoshop tutorials.
---
All content and supporting images are copyright, and cannot be
copied, printed, or reproduced in any manner without written permission.
---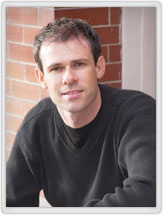 Colin Smith is a best-selling author, trainer, and award-winning new-media designer who has caused a stir in the design community with his stunning photorealistic illustrations composed entirely in Photoshop. He is founder of the world's most popular Photoshop resource site, PhotoshopCAFE.com, which boasts over three million visitors.
More...
October 15, 2007
Featured Products from photoshopcafe
Check out more products from photoshopcafe's store in the Renderosity MarketPlace!
---
---
Hi Nick, If Nick or someone else hasn't responded to you privately yet - yes, this can be done in other programs - Photoshop Elements, Corel Paint, Paint Shop Pro. What program are you using? Since this is Nick's article, I'll leave it up to him to respond, but if you don't get an answer, please post here, and send a message to me through my info (as I don't always have the time to check back). Kristi