Auto Align Layers and Auto Blend Layers
Colin Smith - photoshopCAFE
Two incredibly powerful tools are best used together in tandem. In a way these tools do what Photo-merge used to do but they do a lot more and do it a lot better. (Photomerge still exists in an improved format thanks to these amazing tools). If you have a series of images that you need stitched together in a panorama or grid, this is your solution. In this tutorial we will create a panorama.
Step 1
Open all the images into Photoshop CS3. Drag each image onto a separate layer in the same document (hold the shift key to center each image). You could use a script to open the images and place them into a single layered document.
Select all the layers by clicking on the bottom layer in the layers palette, holding Shift and clicking the top layer. (Note: For this to work, you cannot have any locked or linked layers except for the background)
Step 2
Choose Edit>Auto-Align Layers
You will now see a dialog box that offers 4 options. For the majority of panoramas, the auto option will work the best.

Click OK
Step 3
After a little thinking and a progress bar, you will see your images arranged in such a way as they overlap each other nicely. Don't worry about the seams and color differences. The important thing is the arrangement. In this case, I have 8 images arranged. Notice that the canvas size has automatically changed to accommodate all the images.
Step 4
Choose Edit>Auto-Blend Layers
Very quickly Photoshop adjusts the exposure and white balance of each image and prepares a layer mask with gradients between images.  You can see a close up to examine what a good job Auto-Blend has made to these images. Also click the thumbnail to see a comparison with Photo Merge from Photoshop CS2. What a difference!
Click to see larger version
The same image in Photomerge in CS2 (Below). You can see a huge improvement with Align and Blend.
Step 5
Finally crop and display. The hardest part of all this, is trying to find a printer large enough to print out these massive files.Click for larger view
Keep your eye on PhotoshopCAFE.com for CS3 training videos and resources!
*Visit the Renderosity Photoshop Forum for fantastic monthly challenges and knowledgeable support from retrocity and fellow Photoshop artists!
---

6 hours of quality Photoshop tutorials.
---
All content and supporting images are copyright, and cannot be
copied, printed, or reproduced in any manner without written permission.
---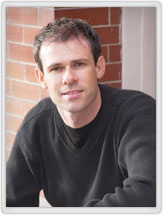 Colin Smith is a best-selling author, trainer, and award-winning new-media designer who has caused a stir in the design community with his stunning photorealistic illustrations composed entirely in Photoshop. He is founder of the world's most popular Photoshop resource site, PhotoshopCAFE.com, which boasts over three million visitors.
More...

 

 
November 5, 2007
Featured Products from photoshopcafe
Check out more products from photoshopcafe's store in the Renderosity MarketPlace!
---