Tags: 3D, 3d animation, big buck bunny, Blender, blender 3D, blender foundation, CGI, computer animation, conferences, professional, siggraph 2008
---
Ah, yes, I'm back again with some exciting news from the Blender folks! Blender, of course, is the free, open-source, cross-platform 3D suite, and it's better than ever with the current 2.46 release. If you haven't checked it out yet, maybe this article will encourage you to do so.

I'm happy to report that the Blender Foundation is busy as ever this year, and will even have a major presence at SIGGRAPH in Los Angeles. So, here I will present a brief look at what the Blender Foundation has been up to, including a brief interview with Blender's creator, Ton Roosendaal.

Now, if you weren't aware of it, May 30th saw the online release of the Blender Foundation's second "Open Movie" project, the animated short film, Big Buck Bunny. The first "Open Movie" project in 2006 was Elephants Dream. But this time around, Big Buck Bunny is of the "furry and funny" sort, and aside from that it showcases Blender's capabilities very well.

Besides the fact that the film was made completely with open source tools, it is a big boost to the open source movement in that, just as with Elephants Dream, all production files used in creation of this will be freely available under a creative commons license. There's no better way to learn than by example, and the Blender folks are not holding anything back.
As for the film itself, I really think they outdid themselves. The characters are fun, the fur is amazing, and the soundtrack is fantastic. All in all, a highly enjoyable film and a great statement as to what can be done with Blender professionally. 
Big Buck Bunny is currently available for purchase on DVD and Blu-ray. While all production files are freely available for download, you may ask "why then buy the DVD?" Well, for one, you would be supporting open source development. But also, it is a really neat package, and you will then have the movie, complete with commentaries, for your home viewing pleasure! 
This second "Open Movie" project, like the first one, also had the goal of improvement to Blender itself. As a result of Big Buck Bunny, Blender's 2.46 version now sports some great additions/improvements, including a new particle system with hair and fur combing tools, among many, many other things, which you can see here. 
Here we have a look at the team responsible for Big Buck Bunny, and many of whom will be present at SIGGRAPH to give a presentation on the making of the film. 
Sacha Goedegebure
(Netherlands)
Director
Andy Goralczyk
(Germany)
Art director
Enrico Valenza
(Italy)
Lead artist
Nathan Vegdahl
(USA)
Rigger & Animator
William Reynish
(Denmark)
Animator
Brecht van Lommel
(Belgium)
Technical Director
Campbell Barton
(Australia)
Technical Director
Jan Morgenstern
(Germany)
Music and sound design
Ton Roosendaal
(Netherlands)
Producer
Now, aside from Big Buck Bunny, the Blender Foundation has been well into work on an equally exciting "Open Game" project. Below you can see a sample of the work that is being done.

Apricot Blender Game Engine Work in Progress 28/July from Campbell Barton on Vimeo.

Nick C. Sorbin: It's fantastic to see Blender having such a large presence at SIGGRAPH this year. In your own words, what would you most like for attendees to come away with after getting the Blender experience at SIGGRAPH?

Ton Roosendaal: Obviously we want to show Blender's progress, show professionals that it's a viable open and free alternative for expensive 3d tools! Hopefully it will help existing Blender artists and developers to get hired more. 

NS: With a 90 minute presentation on the making of "Big Buck Bunny" at the Computer Animation Festival, can you give us a taste of what to expect?

TR: We want to present a 'making of'. Almost all of the artists (4) who made the film will be presenting. Hopefully we can get our humble laptops to show several examples of how shots were made. And, don't forget that all the production files we'll show are freely downloadable!

NS: How did you hook up with the HP folks for the Tradeshow Exhibit? What can be expected at the booth?

TR: HP needed high quality content which they can freely show, print and work with to demo their latest color accurate displays and printers. They used BBB footage for another tradeshow too, so the link to make the Siggraph demo a real Blender demo with artists was quickly made.

NS: I imagine there will be plenty of Blender goodies available?

TR: We already gave away everything! :)

NS: With the second "Open Movie" project, Big Buck Bunny, how much has changed with Blender as a result? What do you feel was most  significant?

TR: The target was to make cartoonish character animation with furry animals. A lot of development was needed for it, which we completed succesfully... with our extremely fast fur render as most visible result.

NS: Also, with the "Big Buck Bunny" project, do you feel it was a smoother process, if only that you knew more of what to expect after having gone through this with "Elephants Dream"?

TR: In some ways it was smoother, but in other ways we just pushed the level higher too. It's always nice to try things on a level you know will run you into troubles... especially on database referencing (sharing and instancing data project-wide) and managing scene complexity we pushed things to the max, clearly finding where we have work todo still.

It is also important to realize that the team was mostly with relatively inexperienced artists, not having realized a serious animation project before. To build a team again from scratch always takes many months.

NS: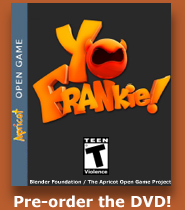 What I've seen so far with the Open Game project is fantastic. What is now the targeted release date for the DVD?

TR: The team will work on Apricot "Yo Frankie!" until end of august. We probably need to schedule some authoring extras, so expect it in the mailbox early october. Tell all your readers to help us with this project by purchasing the dvd!

NS: How much has the Open Game project helped the development of Blender's game engine?

TR: Originally we didn't even want to use the Blender GE. The status of that part in Blender was quite horrible last year, and we never got enough coders interested in bringing back to a stable quality level. The main Apricot concept was to test Blender in a more traditional game creation pipeline, with Blender used as modeler, shader and animation tool, exporting data to an external engine like Crystal Space. We also wanted to check on how python scripting behaves for configuring the UI, for custom level editors.

The fact the BGE is back is quite a coincidence... partially because this spring a brilliant new developer fixed about every open report in the engine (a 100 at least), and partially because we added good GLSL shading, multitexture and normalmaps in the 3d modeler display, making it very attractive to use Blender's GE for prototyping. It was evident that this level of integration was not simply feasible to achieve with an exporting system to Crystal Space. So we decided to make the BGE version in parallel with a CS engine version.

NS: As for the growth of the Blender user community, do you have any stats as far as, say, downloads per month?

TR: Within 4 weeks of the 2.46 release, we counted over 300,000 downloads from the blender.org download page. That is excluding all other mirrors, download sites, distributions, etc.

NS: Oh, and I really have to ask, who came up with the jump-rope scene idea in Big Buck Bunny? Man, that cracked me up!

TR: Not sure! Originally we had the rabbit peeing, but that appeared to not work in animatic. :)

Thanks to Ton for taking the time out to answer some questions amidst a very busy schedule. And for anyone attending SIGGRAPH, please do stop by the HP booth and check out the great work the Blender folks are doing.


Links:
---
All supporting images are (c) copyright Blender Foundation | www.bigbuckbunny.org and cannot be
copied, printed, or reproduced in any manner without proper attribution under the Creative Commons Attribution license.
---
Nick C. Sorbin
is a digital artist, sculptor, writer, and Managing Editor for Renderosity's Front Page News.
Renderosity Homepage
August 4, 2008
Please note: If you find the color of the text hard to read, please click on "Printer-friendly" and black text will appear on a white background.
---
---
Related Articles: