---
Ford Falcon XP Ute. by blinkings ()
Photography • Transportation • posted on Jan 31, 2013
Report this image. Open Full Image
Members remain the original copyright holder in all their materials here at Renderosity. Use of any of their material inconsistent with the terms and conditions set forth is prohibited and is considered an infringement of the copyrights of the respective holders unless specially stated otherwise.
Description
---
The XP Falcon was introduced in March 1965 replacing the XM Falcon which had been in production since 1964. It was the final series of the first generation Falcon which had been introduced as the XK Falcon in 1960. The main change from the XM was the 'torque box' steel subframe which added structural rigidity to the car. This was a key in improving the public perception of the car as the early models were considered flimsy and were unpopular with Australian fleet buyers.
The running gear and most other components stayed the same from the XM through to the XP. The Utility and Wagons models had five-stud wheels for additional strength and a lower ratio differential for better low speed performance. The high end Falcon Futuras and Fairmonts came with 14 inch wheels whereas other models had 13 inch. Fairmonts featured bucket seats, the 200ci Super Pursuit engine and a padded dash as standard. Vacuum assisted brakes were standard in the Fairmont and Hardtop models.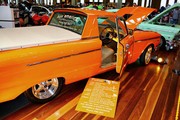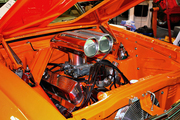 Image Comments (17)
---