---
Bell UH-1B Iroquois A2-1020 by blinkings ()
Photography • Aviation • posted on Jan 25, 2013
Report this image. Open Full Image
Members remain the original copyright holder in all their materials here at Renderosity. Use of any of their material inconsistent with the terms and conditions set forth is prohibited and is considered an infringement of the copyrights of the respective holders unless specially stated otherwise.
Description
---
TECHNICAL DATA: Bell UH-1H Iroquois

DESCRIPTION:

Multi-role utility and transport helicopter.

POWER PLANT:

1400shp (de-rated to 1300) Lycoming T53-L-13 turboshaft.

DIMENSIONS:

Diameter of main rotor 14.63 m (48ft); length 12.77 m (41ft 1 in); height 4.42 m (14ft 6in).

WEIGHTS:

Empty 2255 kg (4937 lb); loaded 4309 kg (9500 lb).

PERFORMANCE:

Max speed 204km/h (110 kt); range at low level 511km (275nm) at max weight; Service ceiling 12,600 ft (3840 m).

A wider shot of this same Huey.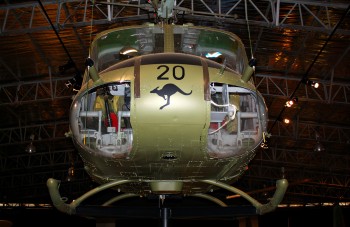 Image Comments (13)
---