---
Photography • Aviation • posted on Jan 11, 2013
Report this image. Open Full Image
Members remain the original copyright holder in all their materials here at Renderosity. Use of any of their material inconsistent with the terms and conditions set forth is prohibited and is considered an infringement of the copyrights of the respective holders unless specially stated otherwise.
Description
---
What type of aircraft am I? The colours should give you a clue. They were more than just decoration, as they provided much needed visibility. The LAST thing this aircraft wanted to be was stealthy!

SOLVED! Well done Bill.

In 1946, 80 DH 100 Vampires had been ordered as the first jet fighters for the RAAF, beating the Gloster Meteor into service by a year. Prior to these aircraft being delivered from the de Havilland Australia Bankstown plant, three RAF Vampires were imported from England for trials, none of which entered operational RAAF service. The order for 80 single-seat Vampires set the scene for 190 Vampires of varying types to be produced between 1949 and 1960. The variants included Mk 30 and 31 fighters and fighter-bombers and 110 Vampire Mk 33, 34 and 35 two-seat trainers.

Up until 1960, RAAF Reserve squadrons operated single-seat Vampires before these aircraft were replaced by the Meteor and Sabre. During 1955-56, some 50 Vampires were converted by Hawker de Havilland to act as target-towing aircraft, with the addition of a hook and release mechanism below the cockpit. This extended the service life of the Vampire by some years, and allowed pilots to be trained in aerial gunnery techniques against a fast-moving target.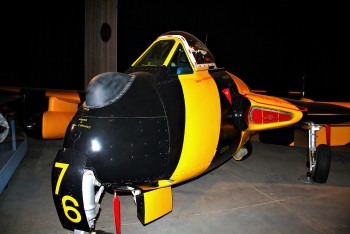 Image Comments (10)
---