---
Canberra bomber for Rob and Steve! by blinkings ()
Photography • Aviation • posted on Dec 31, 2012
Report this image. Open Full Image
Members remain the original copyright holder in all their materials here at Renderosity. Use of any of their material inconsistent with the terms and conditions set forth is prohibited and is considered an infringement of the copyrights of the respective holders unless specially stated otherwise.
Description
---
Canberra bomber

The Canberra bomber was Australia's first jet bomber. The Lincoln bomber had been in Australian service for only a short period of time when it became apparent the age of the propeller-heavy bomber was on the decline. The RAAF needed a more modern bomber than the Lincoln and in 1950 an order was placed for 48 English electric Canberras.

The Canberras were built in Australia, under licence, by the Government Aircraft Factory (GAF). Its Rolls Royce Avon engines were built by the Commonwealth Aircraft Corporation (CAC).

The first Australian built Canberra bomber flew in May 1953, entering service with 82 Wing in December, and the last was delivered in September 1958. In addition to these 48 Australian Canberras, the RAAF also flew seven British Canberras (three of which were on loan from the RAF).

The Canberras were flown by 1, 2, and 6 Squadrons, although they only saw operational service with 2 Squadron - during the Malayan Emergency and the Vietnam War. The Canberras were also flown by 2 Squadron for the longest peiod of time, from December 1953 until June 1982.

Five aircraft (A84-201 and 203-206) were converted to dual control Mk 21 trainers in 1958-59.

In the mid 1970s the Canberras were gradually replaced by the General Dynamics F-111.


Specifications

English Electric/GAF Canberra Mk 20/Mk 21

Type: Tactical bomber

Entered service: 1953

Crew: 2

Wing span: 19.5 m

Length: 19.96 m

Weight (laden): 22 680 kg

Ceiling endurance: 45,000 ft

Speed: cruising speed 703 km/h; max. 933 km/h

Armament: max. bomb load 3,629 kg. The typical load during the Vietnam War was six 340 kg bombs, four in the bomb bay and one under each wing tip.

Below is a closeup shot I took of one of the Rolls-Royce Avon MK 109 engines.

Please zoom on both photos for more detail.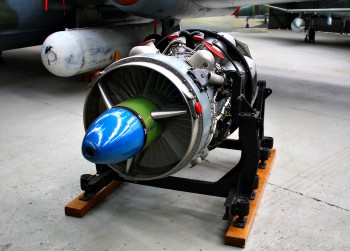 Image Comments (13)
---