!♥! Helloo !♥!
~•
♥
•~*
Every One Here At Renderosity
*~•
♥
•
~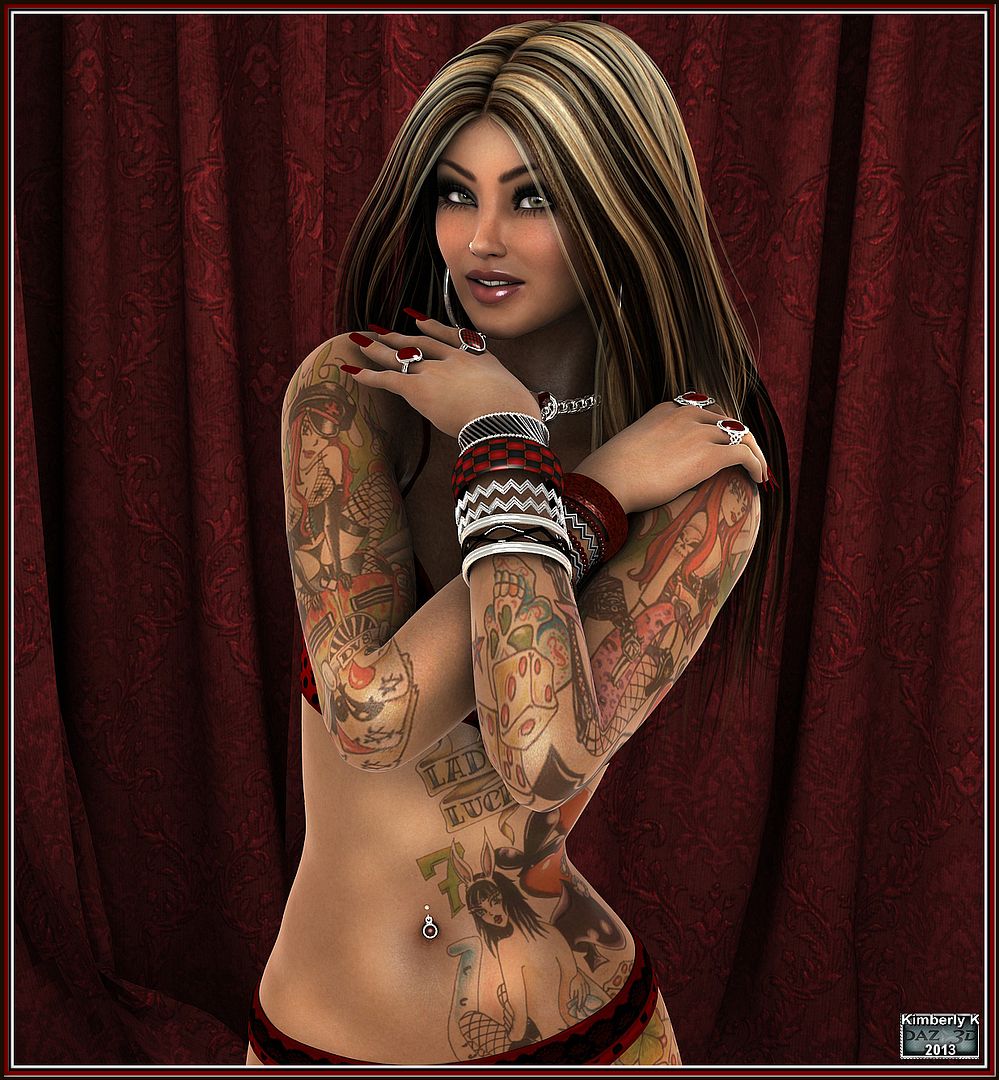 ~•

♥
•~*
•:*¨¨*:•°-:¦:-
I'm Kimberly K.
-:¦:-°•:*¨¨*:*•~
♥

•~
~•

♥

•~*

♥

Enjoy Some Of My Fav Songs While U Enjoy my 3D Art Slide-show
♥
*~•
♥

•
~
Thank You For comeng To My Artist Page,
I'm Kimberly age 29 I live in Anderson Indiana.
I'd like to think of myself is just simply an all around artist...
I got my love for 3D stuff in IMVU.com I just loved it so much back then. That one day I look up moor 3D stuff and i find DAZ Studio i think it was back in 2008. I always knew and loved how to draw and pant all throw school and I just love playing with dolls. So now i can do the two things I love together in doing my 3D art...
Well i love doing real life & up to date cool style's and what is beautiful to Me... I do the skein textures just by changing all the materials or settings on the skins of all the dolls i us. by using the Elite Human Surface Shaders. like say getting a not so cute doll V4 or M4... or say on a prop i don't like how it looks so i just change it all until its as real life looking for me as i can get it. i also like changing the morphs as much as i can to. i just want moor real life stuff like props. if you need it in real life then i want it for the 3d life... making a couch or loveseat.... knick knacks things to sat on a table picture frames and so on and so on.... I do welcome all gifts are any testing that you would want me to do in DAZ Studio or poser 2012 I do so love receiving and enjoying and cherishing them so much,

I guess you can say I just all out love doing realistic artwith all 3D stuff...
You can add me on facebook at,
...MORE TO COME SOON...
Last Publish On: 1 / 1 / 2014 4:20 AM
~•

♥
•~*
•:*¨¨*:•°-:¦:-
♥
BIG HUGS 2 ALL MY FRIENDS
♥
-:¦:-°•:*¨¨*:•~
♥

•~