Find What You Are Looking for at Renderosity and Participate in the Scavenger Hunt!
You have told us that you would like an improved search tool here on Renderosity, and now we are happy to present to you a vastly improved and robust search for the entire site! And to help get you started, we are having a sitewide scavenger hunt to acquaint you with the updated search feature!
Our search specialists stripped down the site search to its basic components and have rebuilt it from the ground up to give you a complete search experience - the right search, the first time. No more digging around in particular areas of the site in search of a particular item - you can now use the Search bar in the Renderosity header to easily find anything on the site!
In addition, we have also added a few extra features to the search tool to help find what you are looking for faster. Search Suggestions have been added, where relevant search terms are listed as you type in the Search box! You also have the option to see details of search results for a more in-depth finding, as well as the ability to auto-expand all areas you have searched for a bird's eye view of all the available results!
You can toggle these new options by clicking the Advanced Search link below the Search box in the Renderosity header. In the Advanced Search you will see a User Preferences link, which should display the following options:

The Search User Preferences window.
You are free to search the entire site, or you can narrow down your search to a specific area, including the MarketPlace, Galleries, Forums, the Wiki and more. Accurate search results are now at your fingertips, so you can find it right the first time!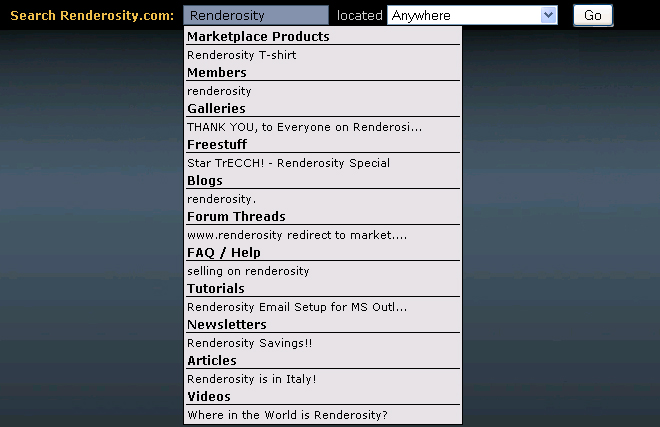 Example of Search Suggestions.
---